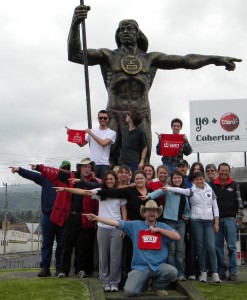 "I'm not a teacher: only a fellow traveler of whom you asked the way. I pointed ahead – ahead of myself as well as you."—  George Bernard Shaw

We're stunned by the loss of one of our own, board member, friend, and teacher, Dr. David McMillian Coffey. David's life, which ended after a brief illness, was celebrated in a service at Western Kentucky University on Sunday, March 30. Family, colleagues, students and dog Coco gathered to remember David. Speakers included the Rev. Jose Anders, Kristy Guffey, Chris George, Dr. Gordon Jones, and his sister, Anne Coffey. Simultaneous translation to Spanish was provided by Dr. Melissa Stewart, music by his niece and nephews Andi, Jody and Adam Dahmer.
As is typical of every experience I ever had with David, I came away from the memorial service having learned a thing or two.  A beloved and gifted teacher, the initial truth Dr. Coffey imparted to his Western Kentucky University students was this: "You must get your ass to class to pass."  Not surprising that, even in death, Dr. Coffey packed the room.
Distinguished in the fields of Agriculture and Education, his numerous professional accomplishments are outlined in his obituary. (Click here.); however, clearly, Dr. Coffey's true resume is written in the hearts, minds and lives of his students. David had an instinct for teaching and the ability to inspire learning.  Spend any time at all with David Coffey and you became one of his students. I had the good fortune to travel through Ecuador with a group of WKU students under David's leadership. Each day, even the most exhausting ones, ended with a group exercise known as "Reflection". Reflection begins with full glasses of whatever and the toast, "ariba, abajo, al centro, al dentro", that is, "up high, down low, to the middle, with-in" The toast, accompanied by appropriate gestures, is followed by a question of David's devising. "What did you learn today? What did you learn about a fellow traveler? Which of your perceptions was challenged today? " As a non student, a contemporary of David, as a person who generally finds it preferable to watch from the wings, I expected to be spared the oral mini quiz. I wasn't. Furthermore, it was clear that several of our group were neither comfortable with nor skilled at impromptu speaking. None of us were let off the hook. In time, in a very short time, all of us became more than resigned to Reflection; we became as eager as preschoolers at Show and Tell for the daily ritual. Reflection became a chance to laugh, to learn, to show off what we'd learned, to bond. The following day, the expectation that we'd each be called upon to produce a reflection kept the group alert to the myriad of things that were there to be learned, aware of observations that could be passed on, on the lookout for something unique in a traveling companion. Reflection is more than a fond memory I have of David, it's an example of the exciting interplay of teaching and learning that results when a master sets in motion the perpetual motion machine that is education.
Last month, Kentucky Ecuador Partners was fortunate to have Dr. Coffey as the guest speaker for our annual meeting. Those in attendance joined the many who can say "I have learned from David Coffey."  The statement "I have learned from David Coffey." may well stand as the simplest, truest tribute to a complex and precious man.
Kentucky Ecuador Partners will be planting a tree on the campus of Western Kentucky University in memory of Dr. Coffey. If you would like to honor David's memory, contributions can be made to:
The Dr. David Coffey Scholarship Fund, c/o College Heights Foundation, 1906 College Heights Boulevard 41016, Bowling Green, KY 42101.
Kentucky-Ecuador Partners project fund supporting a WKU student's travel to Ecuador as part of one of the programs Dr. Coffey originated. Mail to Austin Cantor by April 30 at: 905 Alexandria Dr. Lexington, KY 40504. Please make checks payable to Kentucky-Ecuador Partners and make a note on the check/in the letter as to which fund you are supporting.
Jan Yon